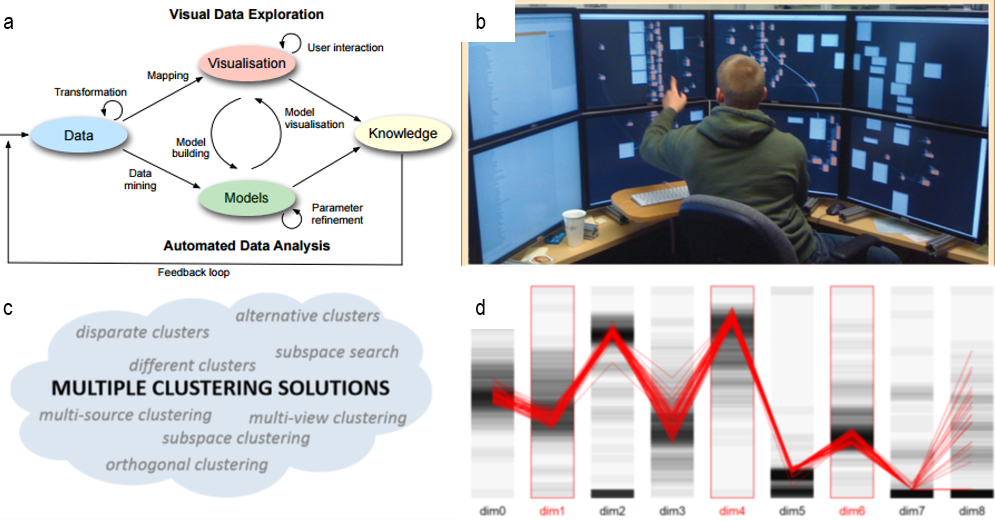 This lecture teaches how to analyze large, high-dimensional, partially unreliable, and incomplete data using data analysis techniques and interactive visualizations that are tightly coupled. It explains the properties and parameters of important data analysis methods and shows how these methods can be integrated into Visual Analytics systems.
The interdisciplinary character of the development and use of Visual Analytics approaches is emphasized. This also includes questions of visual perception and cognitive processing of visual data and their role in decision-making processes. Special attention is given to the knowledge generation process, the process by which observations, hypotheses, statistical results and other artifacts are generated and managed. The application examples range from financial data (stock prices), data of credit card movements, gene expression data to epidemiological data and patient data. Target groups of such applications are investors, security departments, biologists, statisticians and physicians.
You can see an interview with Prof. Preim on the topic of Visual Analytics on Youtube.
Organizational Issues
Audience: WPF CV-Master 1-3; WPF INF-Master 1-3; WPF IngIF-Master 1-3; WPF WIF-Master 1-3; WPF DKE-Master 1-3; WPF DigiEng-Master 1-3
Graduation: Examination(orally)
ECTS-Credits: 6
Examination requirements:
– Timely registration (approx. four weeks in advance!)
Examination:
– The examination will be a written offline exam
– Date: 27.07.21
– Time: 8:00 – 10:00 am
– Place: Messehalle 2
– For the most current information, check the file "Prüfungsplan" on the corresponding examination office page
– If you cannot take the exam this semester, you will, unfortunately, have to switch to one of the following examination dates in the upcoming winter or summer semester.
Exam
You can find a list of example questions for the exam in the Visual Analytics Example Exam Questions.
Lecture
Due to the current corona situation, lectures and exercises will be held virtually until further notice. The videos for the lecture will be linked on this page together with the corresponding slides. There will be 21 video lectures with a duration of about 60 minutes (corresponding to 14 full lectures with 90 minutes) where you see the slides, a small version of the speaker and the related audio. These lectures are meant to be used at any time or location as it is convenient for you.
Information for upcoming Zoom calls regarding the lecture and exercise will be posted here on the website.
Course of Lectures and Slides
Literature & Links
Exercise
Course of Exercises and Slides